--------------------------------------------------------------------------------------------------------------------------
For the Last Time: White People, Don't Use the 'N-Word'
- Fashionista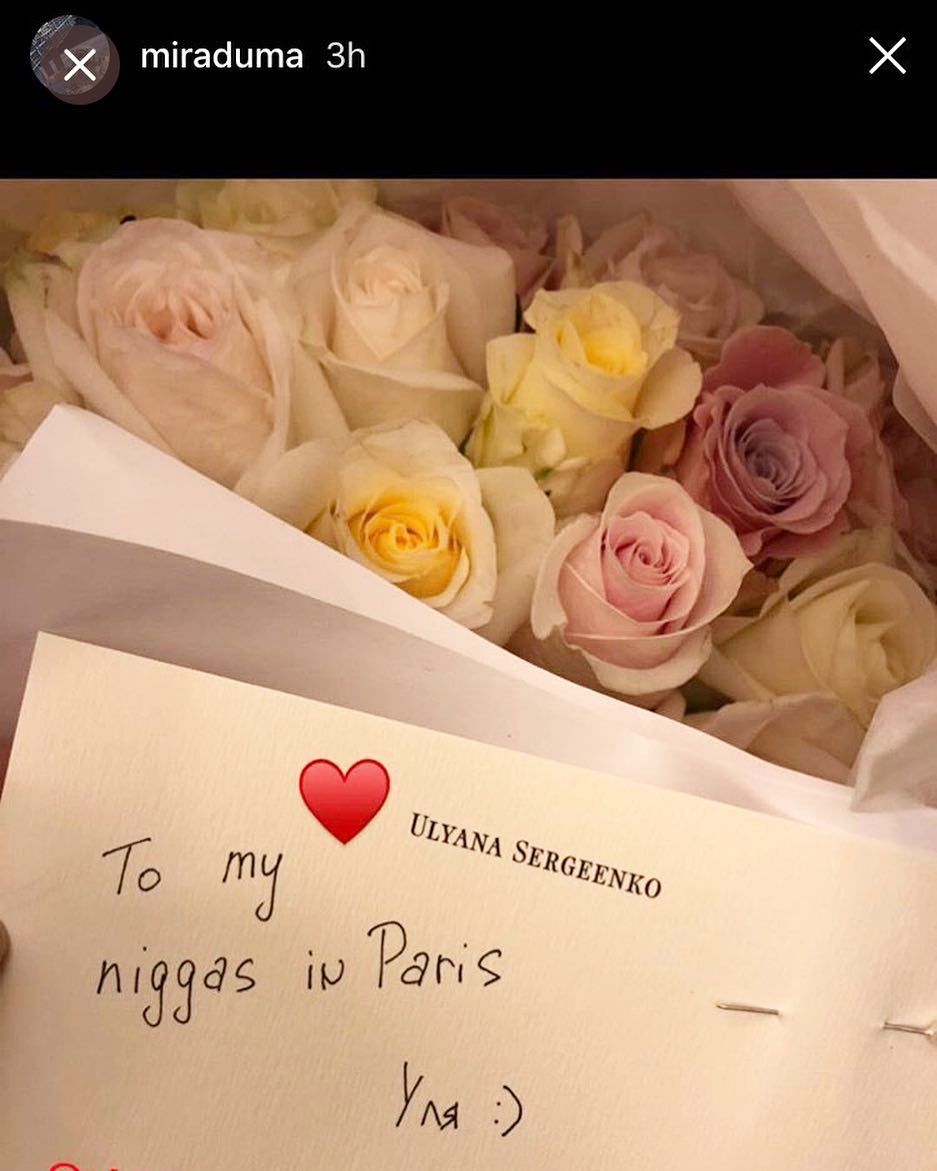 My apologies:

For having to post this picture.

The gist:

The title of the article says it all and I will refrain from posting both of the offenders totally lame apologies. You're free to google them...they're easy to find. I'm tired of this PR stunt where people say what they mean and then pretend like they didn't mean it and go to Racial-Slur Rehab or whatever.
The "Couture Designer" in question who wrote the note is Ulyana Sergeenko. The divorcee of a Russian billionaire, and perhaps known more for her "best customer" status among leading design houses rather than for her own design bona fides. That is, until according to her Wikipedia page, "she

grew frustrated when pieces she had collaborated with designers on showed up in their collections with no credit given to her contributions. As a result, Sergeenko launched her eponymous fashion label in 2011 in Russia."
The phrase in question is from Jay-Z and Kanye West's song by the same name and she

defended herself by saying

she uses the N-word among her besties as both a term of endearment and to show her great love and respect for the mega-mogul rappers.
The "Blogger" in question who received the note and stupidly posted it to her instagram account is Miroslava Duma who was swiftly removed from her position on the board of The Tot, a children's company she co-founded in 2015. Duma, the daughter of a Russian senator, began her career at Harper's Bazaar Russia and is a darling of many a street-style photographer. She is also the founder of both Buro 24/7 and Fashion Tech Lab and is now known as a "Digital Entrepreneur"-a title legitimized by a Trumpian ideology whereby Money+Beauty=Expertise and only someone from wealth with no formal background in either finance or digital marketing could be called.
My thought bubble: I think my snide description of Ms. Sergeenko's and Ms. Duma's credentials gives you a clue as to where I stand on this issue. HOWEVER...I am not so self-righteous that I don't see a touch of faux-fashion outrage.

These words are in fact featured in a well-known song by the same name BUT...
I think Ice-Cube said it best when he appeared on Bill Maher's show post Bill's own racial slur slip:
"It's OUR word now."
To quote RHONY

LuAnn "The Countess" de Lesseps: "Money can't buy you class..."
Bonus quote from Game of Throne Season 5, Episode 10: "Shame...shame...shame..."
--------------------------------------------------------------------------------------------------------------------------
Designer Mara Hoffman: As a Creative, Standing Still Will Kill You
- The Glossy Podcast
The gist:

Three years ago, designer Mara Hoffman went through what one could call an existential crisis.
She had been running her eponymous label for 15 years when she hit a wall. Feeling like all her brand was doing was adding more "stuff" to the world - and causing harm to the environment -

she knew she had to completely overhaul her business, or walk away from it all together

.
My thought bubble: Expect to see a lot more designers having their "Come-to-Jesus" moment.
--------------------------------------------------------------------------------------------------------------------------
Cornellians Share Advice, Warm Hat with Students from Puerto Rico
- Cornell Chronicle
My warm and fuzzy thoughts: Very proud of my Alma Mater for their generosity and compassion...and also for prepping people from

palm tree laden climes for the shock of their lives!
Save
Save